The Passenger Lounge area, provides a relaxing sitting, socializing or additional dining area.
This separate room quickly converts to a PRIVATE SECOND BEDROOM to comfortably accommodate travel guests.
Plenty of wardrobe and drawer space is provided in the lounge to serve the needs of your guests.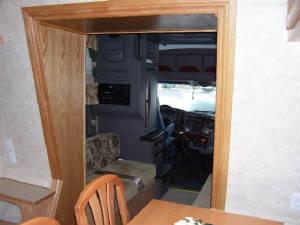 The large archway joining the passenger lounge and the central living quarters, provides unobstructed movement without diminishing the roomy feeling of this spacious motorhome.
The MASTER BEDROOM is a true "home away from home" luxury.
The Queen Size Posterest mattress will give you a rest that will fully re-juvenate your body so you can fully enjoy your trip.
The plush Bedspread and pillow shams accent the spacious oak wardrobe and storage cupboards. The night shade blinds, T.V. connection and separate outside entrance, provide the contained privacy of your own room.
The BATHROOM is bright, spacious and very functional.
Featuring a vanity with a large sink, overhead cabinet, spacious linen storage, a tub and shower, toilet, ceiling fan and a skylight, you can rest at ease.
The THERMOSTATICALLY controlled head and central air conditioning assures full comfort in all weather conditions you may encounter.