TRANSMISSION FEATURES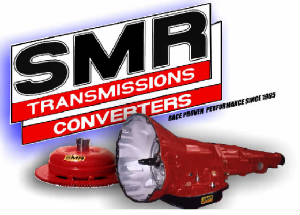 HEAVY DUTY, PERFORMANCE, RACING and RESTORATION
Every SMR TRANSMISSION is designed for users specific application and features varying combinations of modification and aftermarket components to provide the OPTIMUM PERFORMANCE AND RELIABILITY
EVERY SMR TRANSMISSION IS HAND ASSEMBLED INDIVIDUALLY AND BLUEPRINTED ASSURING THAT EVERY SPECIFICATION AND DETAIL IS STRICTLY ADHERED TO.
QUALITY FEATURES INCORPORATED INTO ALL SMR TRANSMISSIONS (except as noted-see specific model specs for greater detail)
CASE SELECTION and PREPARATION

Chemically cleaned and oxide blasted then critically inspected for cracks, flaws, stripped threads and warpage
Removal of Flashings to reduce stress
Honing of servo bores and re-surfacing of mating surfaces
Sprag races are inspected, restaked and replaced as necessary
Installation of new neutral switch, cooler fittings, throttle and tail seals and plastic plugs in dipstick, cooler and spedo holes
Drain plugs are added for ease of maintenance
Painted a durable high gloss orange or cast aluminum to asist in detecting cracks, oil leaks and prevent oil buildup and ease cleaning for storage and installation (except MEGA TORQ; "Shortie" Overdrive and CLASSIC Restoration series- which are natural aluminum finish)

CLUTCHES, BANDS & SPRAG

All frictions are new high temperature performance lined clutch plates. Precisely selected to provide the ultimate in shift quality, cooling and load capacity for the specific application. Special blends of Kevlar, resins and high energy fibers are selected.
Extra plates are utilized to increase load capacity in high torque and overdrive applications.
New U.S.A. made steels and surfaced pressure plates utilizing the appropriate surface texture required for optimum fluid retention and clutch performance.
Varying thicknesses of clutch steels, selective snap rings, fiber washers and bearings are utilized to obtain precision tolerances to achieve optimum performance and durability.
All bands used in shifting applications or transbrake functions are new severe duty high temperature or Kevlar lined.
Severe duty sprag elements, sprag races and bolt-in overrunning clutchs are installed in specific applications. Ultra Sprag units are available for extreme horsepower applications.

SERVOS, ACCUMULATORS, DRUMS, HUBS, BUSHINGS, BEARINGS, SPRINGS and SEALS

All of these components are resurfaced, rebuilt, modified or replaced with superior aftermarket components to provide the ultimate lubrication, performance and reliability.
All aluminum supports and several other parts are Molybdenum burnished to provide anti galling and anti friction performance
All pump gears and pressure plates are hand surfaced to assure and absolutely flat surface
The latest advancements are incorporated into each transmission upon construction.

VALVEBODY (See Valvebody Section)

Each valvebody is resurfaced, carefully inspected, bores are honed and spool valves are polished or replaced then modified to provide the ultimate shift control, converter fill, cooling and lubrication for the application. Each valvebody is final pressurized and tested to assure optimum performance.

SPECIAL GEAR RATIOS, GEAR MATERIALS, BILLET, LIGHTWEIGHT AND ALUMINUM COMPONENTS AND ROLLERIZATION ARE AVAILABLE AT ADDITIONAL COST. CHECK OUR MEGA TORQ COMPONENT SECTION TO VIEW SOME OF THE EXTREME DUTY PARTS AVAILABLE FOR MOST 727 TRANSMISSION MODELS.
SELECTING THE SMR TRANSMISSION THAT WILL MEET THE DEMANDS OF YOUR APPLICATION
THESE MODEL CLASSIFICATIONS REPRESENT THE DESIGN CATEGORY ONLY - EACH UNIT WILL BE DESIGNED TO SUIT THE NEEDS OF YOUR SPECIFIC APPLICATION.
RACER'S NET

EXCHANGE*

PRICE

FROM

*MEGA TORQ" REQUIRES NO EXCHANGE

NOTE: ALL PRICES ARE QUOTED IN U.S. CURRENCY

and APPLICABLE FOR U.S. SALES ONLY

HEAVY DUTY USE IN LIGHT TRUCKS, Rvs, Towing, Plowing, Etc.

Extra high load clutches, bands, sprags, planetaries - increased lubrication, crisp firm shifts - sull automatic shifting with manual selection capabilities.

$ 1,995.50

(STREET/STRIP) PERFORMANCE STREET with OCCASIONAL drag use- H/P CARS & LT TRUCKS

Performance clutches, bands, sprags, improved lubrication, increased converter fluid apply pressure and volumes - FIRM, CRISP SHIFTS - fully automatic shifting with manual control

$ 1,795.50

(COMPETITION AUTO) HIGH PERFORMANCE STREET and COMPETITION -when automatic shifting is desired

Competition components, maximum shift overlap reduction in auto shift - FIRM CRISP SHIFTS - full automatic shifting with manual control capabilities.

$ 1,989.50

COMPETITION ELIMINATOR

(COMPETITION MANUAL) FOR COMPETITION USE may be used on street - requires no kick down or throttle linkage - FOR HIGH HORSEPOWER VEHICLE

All competition components - all possible shift overlap removed-FIRMEST SHIFTS -MANUAL shift only - REVERSE PATTERN in most applications -MANY OPTIONS

$ 1,989.50

TRANSBRAKE COMPETITION

DRAG RACING COMPETITION USE ONLY-when electronically controlled locking of transmission for instantaneous starting line launches are required.

Incorporates all of the features of the Competition Eliminator plus electronic transbrake - FULL MANUAL SHIFT (Reverse pattern) MANY OPTIONS may be required.

$ 2,589.50

MEGA TORQ

PRO STREET,COMPETITION & TRANSBRAKE APPLICATIONS

Designed primarily for large displacement engines and high torque engines with horsepower ratings between 650 - 2000 h.p.

Utilizing a new 727 case, cast pan and an extensive array of billet and aftermarket components, this unique transmission provides reliability and performance for the torque cnd horsepower demands of to-days mega engines- MANY OPTIONS available including Overdrive.

$ 5,489.75

CLASSIC

PURE RESTORATION APPLICATIONS - for 50s, 60s, 70s remanufactured original transmission

Incorporates the latest technology & upgrades, while restoring the original shift characteristics - Case retains natural finish or metallic aluminum finish.

$ 1,895.50
NOTE: CORE CHARGE - ALL TRANSMISSIONS (EXCEPT MEGA TORQ series) WILL REQUIRE A CORE RETURN OF THE SAME MODEL (EG: 727 for 727, etc.) AT THE TIME OF PICK-UP OR SHIPPING OF NEW TRANSMISSION.
A CORE CHARGE WILL BE APPLICABLE UNTIL A REBUILDABLE CORE IS RETURNED TO SMR FOR REFUND.