The valvebody is the brain of your transmission. It regulates hydraulic pressures, controls precise shift timing and apply and release circuits, monitors governor pressure, converter feed and cooling functions.
A properly designed and constructed valvebody is critical for maximum performance and reliability of your transmission.
Installing an SMR TRANSMISSIONS prepared valvebody, assures precise control in a quality constructed Torqueflite transmission.
Every SMR TRANSMISSIONS VALVEBODY is:
- Thoroughly cleaned and carefully inspected for any cracks, burrs or warpage that may have developed;
- All spool valves are polished and if not within strict tollerances, replaced with revised components;
- Valve bores are honed where necessary to assure total seal functions;
- Mating surfaces are resurfaced to prevent leakage and crossflow into other circuits;
- Specific modifications for the application are precisely performed to main casting, transfer plate and separator plate;
-Vital shift and pressure springs are replaced to renew their original charteristics and/or to increase the performance levels as required by the application;
- Manual valve alignment is carefully checked to assure clean shift activation without pressure loss between gear changes;
- The valvebody is carefully assembled, presssure settings precisely adjusted and the unit is then pressure tested to assure that there is no leakage and that functions are correct for design.
Additionally, all SMR valvebodies(except '62-65) incorporate ANTI-DRAINBACK VALVING and FULL TIME LUBRICATION. These features assure immediate converter charge and lubrication upon start-up. Without this feature, the fluid drains off while parked, requiring converter, lube, cooling and apply circuit refilling upon startup which aerates the fluid with air/fluid mix which in turn does not provide full apply pressure on clutches, converter and cooling system which in turn accelerates wear.
TORQUEFLITE 904 and 727 MODEL LINEUP (3 SPEED AND 3 SPEED WITH GEAR VENDORS OVERDRIVE)
RESTORATION Series: Restores the valvebody to the original shift characteristics of the vehicle for which it is designed. Upgrades are incorporated to improve reliability without altering its' original shift characteristics. The vehicle will feel like it did when the original owner first cruised down the boulevard with his dream car.
Requires all original linkage and settings.
STREET PRO: Provides a firm shift with full automatic shifting when placed in the Drive position. Manual shifting 1-2, 2-3 and 3-2 capability is provided.
Apply circuits are re-calibrated to reduce overlap (bind-up) and pressures are increased for firmer shifts and greater reliability.
Ideally suited for Heavy duty, Street and Street/Strip use.
Note: Requires properly functioning Throttle linkage or cable (kick-down) assembly.
PRO-SPORTSMAN: Provides very firm shifts, higher shift point, with full automatic shifting when placed in the Drive position. Manual shifting 1-2, 2-3, 3-2 and 2-1 capabilities are provided.
Apply circuit are re-calibrated for maximum overlap reduction in an auto shift pattern and apply pressures are substancially increased to provide competition firm shifts and increased clutch bearing capacity.
Ideally suited for high performance street and competition use where automatic shifting is preferred.
Note: Requires properly functioning throttle linkage or cable (kick-down) assembly.
COMPETITION ELIMINATOR - REVERSE PATTERN - "Our ultimate valvebody"
Unlike our other valvebodies, this valvebody (when placed in Low gear),utilizes the application of the one-way roller clutch (sprag) for 1st gear, when shifted to 2nd gear, it applies the Intermediate band which simply causes the one-way roller to override. This results in the cleanest 1-2 shift possible because there is no overlap from having to apply the intermediate band while the low/rev band is still applied.
Further as a result of the flow characteristics of the reverse pattern circuitry, we are able to increase 2nd servo release apply quickly while applying the high gear clutches instantaniously for totally clean 2-3 shift.
Not only do these shift characteristics provide maximum performance, they also substancially improve reliability.
SPECIAL NOTE: This valvebody will install in all years of 727 and 904 from 1966 to 1993, including lock-up models. However the lock-up function will not be activated.
This valvebody will install and perform the same characteristics in the A500-A518-A618 (42-47) RH & RE transmissions. However, OVERDRIVE and LOCK-UP FUNCTIONS WILL NOT BE ACTIVATED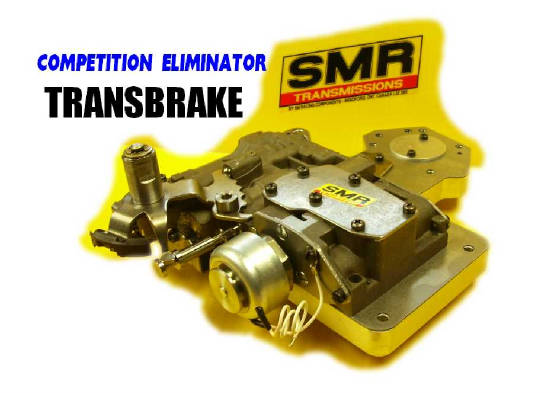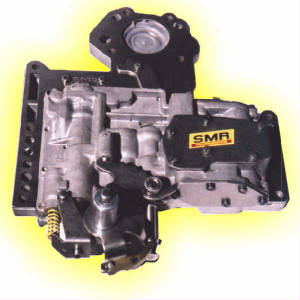 The SMR COMPETITION ELIMINATOR
VALVEBODY FEATURES:
- An SMR exclusive, PRECISION LAZER CUT, STAINLESS STEEL SEPARATOR PLATE. This feature permits high apply pressures without the crossflows and warpage that can occur with standard steel plates;
-ANTI-DRAINBACK VALVING which prevents fluid aeration, resulting in greater clutch capacity, improved converter apply and hold, increased cooling and lubrication, more consistant e.t. performance and greater reliability;
-FLUID CHECK IN PARK eliminates the dangerous act of checking the fluid level in Neutral;
-FULL TIME LUBRICATION provides fluid circulation in all positions to decrease wear and provide improved cooling;
-INCREASED CONVERTER APPLY PRESSURE provide greater cooling of high clutches and greater fluid torque transfer, reducing converter slippage generating less heat and improved performance;
-LOW GEAR COAST SPRAG SAFETY feature only allows downshift to 1st at a stopped or no load situation. This is to protect the roller clutch from possible severe damage. Shifting to low at a higher speed will result in a neutrallized coasting.;
-FULL OPERATING LINE PRESSURE eliminates the need for throttle linkage
-THE REVERSE PATTERN (P-R-N-1-2-3) INTERCHANGES THE DRIVE AND LOW (3rd and 1st) positions so you are always shifting away from Neutral and pulling back with the natural force of acceleration.
This model is best suited to Competition Applications but can also be used on very high performance street applications where performance and reliability is required. Street operation does require full shifting and careful use of 1st gear.
LOW BAND APPLY OPTION: When using the Competition Eliminator Valvebody for street applications, the optional low band apply feature, allows the driver to down shift into low without coming to a near stop and remains in low gear (without the freewheel 1st gear sprag protection of our standard C/E Reverse pattern valvebody) until another gear is selected.
The low band apply feature prevents damage to the sprag in street use where spinning on gravel then hitting asphalt under acceleration or lifting in 1st gear then rapidly accelerating again without upshifting may occur in traffic situations.
However, due to the inherent shift sequence involved with having the low band applied in 1st gear and needing to release this band and simultaniously apply the intermediate band to obtain 2nd gear, the 1-2 shift with this valvebody option (and all other brands of low band apply valvebodies), is not as quick or clean as our standard Competition Eliminator valvebody. Therefore, the low band apply option is NOT RECOMMENDED for COMPETITION applications.
COMPETITION TRANSBRAKE
This is a Reverse Manual Valvebody, with the features of the SMR COMPETITION ELIMINATOR valvebody with the additionof a Transbrake feature.
The function of the transbrake is to permit the electronic application of Reverse while the transmission is manually applied in Low gear. This results in internally locking the transmission so that input from the engine is not allowed to drive the output shaft. When the transbrake button (which is applying Reverse electonically) is released, the transmission which is Low gear, will instantaneously transfer the power to the output shaft, driveshaft, differential, axels and tires to launch the vehicle.
The purpose of such, is to allow the driver to leave at the same r.p.m. on each run resulting in a more consistant reaction time and elapsed time (e.t.) Depending on the application, an improved 60ft. time and e.t. may be obtained.
If applied for extended periods, damage to the torque converter and overheating of the transmission may occur.
FEATURES: -BILLET ALUMINUM TRANSFER PLATE to reduce heat, distortion.crossflows and leakage that can result with this type of operation;
-INSTANT APPLY upon applying the button (no roll to lock resulting inconsistant staging, like some brands);
-FIRST GEAR APPLY ONLY SAFETY FEATURE prevents accidental apply of the transbrake in other gears during competition or shut down.
-FULL SHIFT PATTERN operates like a non-transbrake manual valvebody when button not activated. DOES NOT REQUIRE TRANSBRAKE APPLY TO BACK UP (REVERSE).
This valvebody is best suited to Competition Use Only.
It does not require a throttle linkage.
This valvebody will install and perform the same characteristics in the A500-A518-A618 (42-47) RH & RE transmissions. However, OVERDRIVE and LOCK-UP FUNCTIONS WILL NOT BE ACTIVATED
OVERDRIVE TRANSMISSIONS A500-A518-A618 (DIESEL) including 42RH &RE; 44RH&RE; 46RH &RE, 47RH&RE models
ALL OF THE MODELS SHOWN (EXCLUDING THE COMPETITION ELIMINATOR, REVERSE MANUAL AND THE TRANSBRAKE VALVEBODIES) FOR THE TORQUEFLITES ABOVE, ARE AVAILABLE IN AN OVERDRIVE MODEL.
FOR YOUR SPECIFIC APPLICATION - PLEASE CALL.