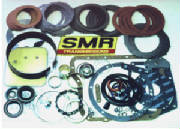 -REBUILD KITS
-
2 separate
premium kits
[ProSportsman and Super Competition]
provide all of the parts usually required to assemble the transmission. These kits
do not
include replacement parts for warped or warn hard components, washers or selectives. To obtain the full details on these kits, check out the rebuild kit section of this website.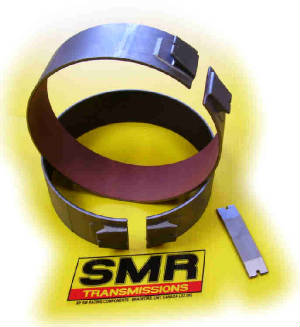 SUPERIOR QUALITY KICKDOWN BANDS
Bringing the Direct drum to a stop from full speed on the 1-2 shift, requires a band that is designed to withstand the shock-load, efficiently clamp the drum surface without excessive slippage, heat build-up or wear. It must also be able to release the drum with the same efficiency for a clean 2-3 gear change.
To assure the ultimate in 2nd gear shift performance and reliability, we utilize and supply a complete line of the best 2nd gear (kickdown) bands available.
From our Pro Series Flex bands right up to the Ultimate Solid type, Carbon lined Super Band. we have the best band for your specific application.
SUPER DUTY BILLET STRUTS also available to prevent flexing of the O.E.M. strut for enhanced reliability and quicker, positive shifts.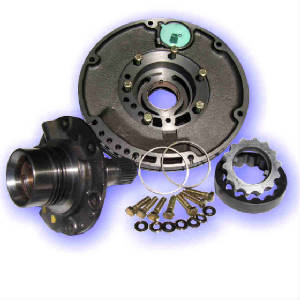 PUMP ASSEMBLY Another important item is the pump assembly. This is the heart of the transmission - pumping the lifeblood (the transmission fluid) to all parts of the transmission. To provide adequate fluid to the clutch packs to hold them closed, charge the converter, lubricate all bearings and planetaries and keep all components and critical rubber seals cool, the pump must maintain precise clearances, flat and true surfaces, provide leak free seal at the fluid transfer surfaces, support the converter, input shaft and high clutch drum. A pump with worn surfaces, pump gears, bushings or warpage between the front rear halves, will not produce a quality rebuild and will surely lead to early failure. Every other part of your body could be in perfect shape, but if your heart quits the other parts will die too.
Our replacement pumps are fully remachined, blueprinted and modified to provide peak performance. HIGH VOLUME PUMPS designed to increase cooling and lubrication in high horsepower, heavy and certain types of competition vehicles, are also available.
4/5 CLUTCH STOCK REPLACEMENT CAST STEEL DRUM
Replace your DIRECT DRUM to add more clutch capacity or obtain proper seal ring sealing when the inner ring surface is grooved or pitted.
These drum are surfaced to the proper finish to maximize band contact for improved band life and cleanest 1-2 shift characteristics. A new premium quality bushing is pressed in to retain the proper centerline and prevent direct seal ring wear and leakage.
Drum is designed to hold 4 clutches and with the clutch capacity increase kit (piston and pressure plate-shown below) 5 clutches can be installed.
We also recommend the installation of new piston release springs to obtain the correcct amount of spring pressure to ensure firm upshifts and prolonged clutch life.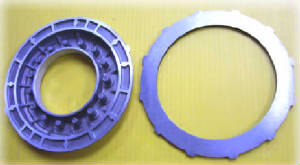 DIRECT CLUTCH CAPACITY INCREASE KIT
This kit accomodates increasing your 3rd gear clutch capacity by as much as 25% without changing the existing drum. By utilizing the same thickness of frictions and steels, an additional clutch and steel will be added, to substancially increase torque capacity under high performance, racing or heavy load conditions.
This kit makes an existing 3 clutch drum a 4 clutch drum or an existing 4 clutch drum a 5 clutch drum
THE CLUTCH CAPACITY INCREASE KIT INCLUDES:
-machined apply piston, pressure plate and matched selective retainer snap ring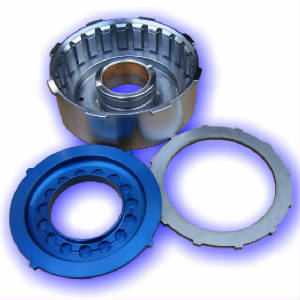 BILLET ALUMINUM and STEEL DRUMS For Performance, Reliability and most importantly Safety, we recommend installing these critical components in any Torqueflite that will be used in extreme high performance or competition applications. The high gear drum must accelerate from a dead stop to full speed in first gear, stop completely and instaniously in second gear and back to full speed in high gear.
From a performance point, the light weight of the aluminum drum drastically decreases the inertia weight that must be started, stopped and re-started improving the overall accelleration performance. Increasing the number of billet aluminum components further lightens the inertia and increases performance.
From the all important safety stand point, in low gear, the total torque of the engine being multiplied by the low gear ratio, is being transfered by the low/reverse drum which is being held locked by the sprag clutch. If when under full torque, it is suddenly unloaded by breaking a "u"joint, driveshaft,rear-end, etc., the high drum is driven 2.2 times the engine speed at flair up. At even 5000 rpm flash before you get out of it, this drum has turned 11,000 rpm. The stock cast drum has an explosion point of approx.9000 rpm. If the stock drum explodes, it destroys the transmission, the body of the car, possibly severely injuring the driver, track personel, etc. The billet components stay safely intact reducing possible serious consequences.
We recommend that the Billet Aluminum Direct Drum not be used for street applications due to the maintenance necessitated by transfer and creation of aluminum residue to the band and the fluid. For applications involving many shift cycles (such as street or road racing), the Billet Steel Direct Drum is much more suited.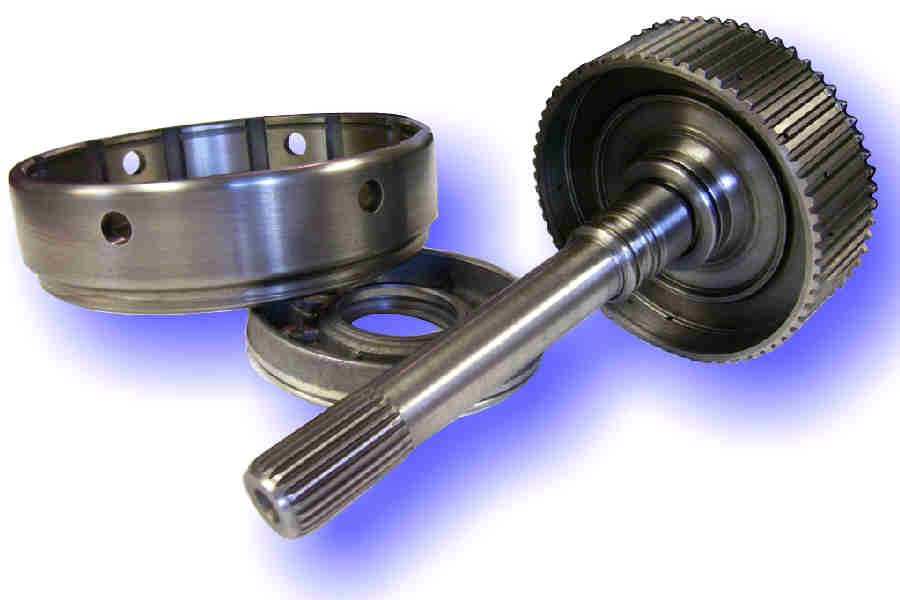 Precision polished INPUT SHAFT, FORWARD CLUTCH HUB and DRUM.
Our input shafts are carefully inspected, ground to tight tollerences at bearing surface, ring grooves champhered and output shaft bearing installed.
The input drive hub is machined to ensure complete clutch spline contact for maximum torque capacity. Enlarged oil relief holes increase fluid flow to the high clutch pack for improved cooling and maximum fluid surface contact on high frictions for dramatic wear reduction. The inner surfaces on the piston side are polished to assure complete lipseal contact for maximum piston apply pressure.
The outer drive drum is champhered and stress relieved to increase torque capacity.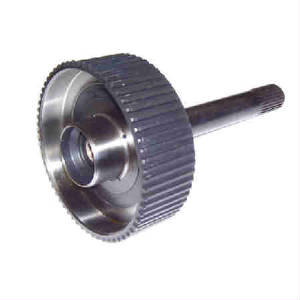 BILLET 300M INPUT SHAFT & BILLET STEEL FWD DRIVE HUB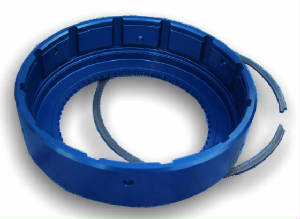 BILLET ALUMINUM FORWARD CLUTCH DRUM
HIGH GEAR RETURN SPRINGS and BILLET RETAINER The life of the high gear clutches under severe duty depends the proper apply pressure of the high gear return spring assembly. These new springs assure clean 2-3 upshift timing and prevent high gear clutch drag in higher r.p.m. 1st and 2nd gear ranges, which leads to premature clutch wear and early failure.
The Billet Aluminum Retainer maintains even apply pressure and prevents the possibility of retainer failure.
BILLET STEEL SPLINED PLANETARY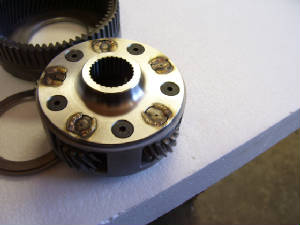 ELIMINATE THE WEAKEST LINK IN THE TORQUE CAPACITY OF YOUR 727.
This direct replacment planetary assembly is constructed wih a vastly stronger, Billet Steel spline, replacing the inferior cast aluminum spline of the O.E.M. planetary.
Available with either stock thrust washer or Torrington bearings.
Either version available for 1962-1975 OR 1976-1993 output shaft spline.
SEE ALSO our ECONOMICALLY PRICED, 5 Pinion Steel Carrier Planetary Set [CHECK "NEW PRODUCTS" FOR DETAILS]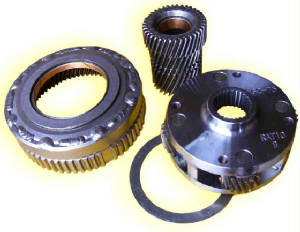 BILLET STEEL 2.77:1 LOW GEAR SET
IN ADDITION TO THE STANDARD 2.45:1 PLANETARY, we can also supply
HELICAL LOW GEAR SETS (2.77:1 ratio) with washers or Torrington bearings.
These BILLET STEEL or BILLET ALUMINUM units, resolve the breakage prone factory welded 904 -727 conversion planetaries used by other suppliers. These Billet sets, can be used with transbrakes
OTHER RATIOS OF 2.28:1; 2.10:1 STRAIGHT CUT units are also available on special order.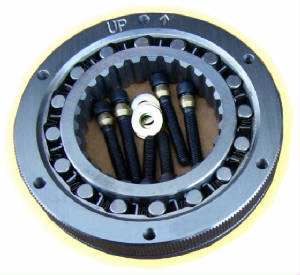 the ULTRA SPRAG - roller clutch assembly
THE "ULTRA SPRAG" is the strongest, most reliable, roller clutch available.
For years the roller clutch (often referred to as the sprag) in the Torqueflite 727 was the weakest link and feared by most for its' devistating impact on the transmission if it failed. The steep ramps and weak cast-in support in the rear of the case would often fail in the event of driveline breakage or low gear burnouts.
Attempts were made to reduce this problem by drilling and threading the outer race to permit bolts through the case to anchor it more securely, however under high torque applications the outer race would fail at the drilled bolt holes often leading to high drum explosion.
The new design in roller clutch utililizes 16 rollers instead of the stock 12 providing a 30% apply capacity increase. The ramp angles on the outer race are substancially reduced resulting in much less outward shock load and a thicker stronger outer race preventing breakage of the outer race. The spring cage is dramatically heavier than the stock unit to prevent the common rollover problem.
The roller race is secured to the case with 6 Grade 8 screws.
-
904 Moly Support pictured
MOLYBDENUM BURNISHED REAR SUPPORT The Steel output shaft is supported in the rear of the case by an aluminum support. This support also provides the carrier for the steel rear drum. In both cases you have highly loaded steel surfaces supported by aluminum which is required to be constantly lubricated by a film of trans fluid returning from the cooler. If for any reason the supply of this fluid is temporarily interupted while the vehicle is in motion, the aluminum will bind and gall on the surfaces of the steel shaft and drum. This will seize the transmission and lead to further damage.
Attempts have been made to resolve this problem by installing expensive roller bearings between the surfaces. This however can lead to other problems such as weakening the support (breaking it off on hard accelleration) and losing the seal between the support and the shaft and drum allowing fluid to leak past and not lubricate the planetaries-burning them up.
We have greatly reduced the likelyhood of damage from momentary lack of lube by burnishing the aluminum support on both surfaces with Molybdenum creating a barrier with a 140,000 psi of abrasion resistance. This support also reduces the power robbing friction experienced with stock support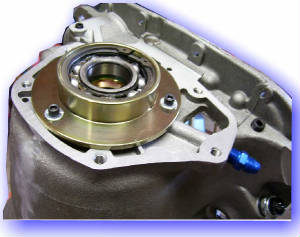 FOR APPLICATIONS ABOVE 600 h.p. OR USING A MANUAL VALVEBODY-
PROVIDING THE BRUTE STRENGTH and RELIABILITY TO THE OUTPUT SECTION ARE:
The BILLET STEEL REAR SUPPORT provides the ultimate drivetrain stability and axial support possible for the 727. Its' inherent strength effectively reduces the deflection and shaft misalignment that can lead to accellerated wear on clutches, planetaries and bushings, resulting in greater reliability and reduced component drag.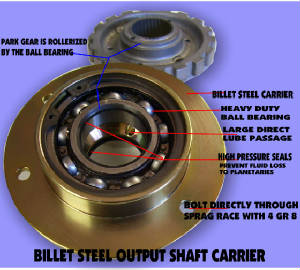 Unlike the modified stock aluminum supports with internal roller bearings providing support to the output shaft and low/reverse drum used by many, this billet steel support utilizes heavy duty BALL BEARINGS that drastically reduce resistance, provide dynamic load capacity (that eliminates shearing off the bearing support under extreme torque loads), provides unrestricted lube flow to the output shaft and planetaries (needle bearings in the support create restriction in lube flow generating heat) and provide stability for the rear drum preventing band drag and early wear.
THE REAR SUPPORT KIT INCLUDES:
-Billet Steel Rear Support,
-Rollerized Low/Reverse Drum,
-Modified, Light weight Park gear; and
-Billet Aluminum Governor Eliminator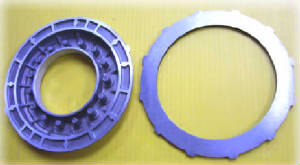 PRESSURE PLATES One area that needs close attention in the Torqueflite is that of the pressure plates. Both the forward clutch pack and the high clutch pack pressure plate (located immediately under the snap ring) are notorious to warping from heat and pressure. They must be checked very closely with a straight edge or 150 grit emory paper on glass to make sure that they are making contact on their entire surface. Because the frictions and steels depend on a thin layer of fluid between them, the apply of uneven pressure will squeeze the fluid away and allow steel to friction contact resulting in clutch slippage and burnup. To obtain long service life of frictions and maximum performance, we make available new "true" pressure plates.
BLUEPRINT KITS To extract the maximum performance from your vehicle every clearance must be adjusted to obtain the optimum operating specification. To set your clutch pack and endplay clearances to the specific factor, we have assembled the hard to find components into a blueprint kit that make this task much simpler.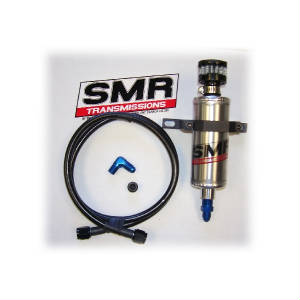 REMOTE VENT AND FILTER KIT
For all Chrysler Transmissions
This kit eliminates transmission drips from the vent (located above the neck of the converter, inside the bellhousing), after hard running or decelleration, high temperature or transbrake use.
The remote air filter, prevents dust and dirt from entering the transmission in dusty, dirty operating conditions.
The remote resevoir holds any fluid emitted during extreme conditions and returns it to the transmission when normal conditions resume.
It includes a vent plug for the existing vent, #4AN vent adapter fittings, 36" #4 braided steel line and the aluminum reserve tank with filter. The tank includes a Billet Aluminum fully adjustable mounting bracket to accomodate mounting to a flat or angled surface or strapping to a roll cage.
Several sanctioning associations require the installation of such a venting system.
OTHER COMPONENTS That will add to the performance and reliability of your 727 Torqueflite are:
NEW BILLET STEEL 4.2:1 KICKDOWN BAND LEVER This lever replaces the 2.9, 3.2, 3.8 ratio units in your stock unit. It will increase the clamping capacity of the 2nd gear apply band (remember it has to come to a complete stop), providing an improved 1-2 shift and improve band life. Its' billet steel construction makes is substancially stronger than the stock and other cast apply levers, especially important under the increased loads and pressures of high performance and race transmissions.
REAR DRUMS and BANDS Because the rear drum and rear band are not applied in an upshift sequence they often don't need replacement. However if they show signs of wear or if you are installing a transbrake, they should be replaced. We can supply these components.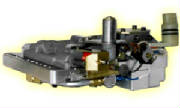 VALVEBODIES & TRANSBRAKES:
Install one of our complete upgraded and modified valvebodies to obtain the shift quality, increased cooling and lubrication, anit-drainback features, transmission performance and reliability that your application requires. Available in
Restoration, Heavy Duty, High Performance, Full Manual control and Transbrake Competition
levels to suit your specific needs.