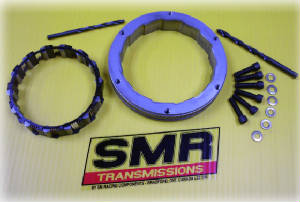 NEW PRODUCT
BOLT-IN SPRAG KIT FOR THE A518-618 (46-47 RH & RE model) OVERDRIVE TRANSMISSIONS
To substancially increase the reliability and prevent case destruction in the event of driveline breakage, tire slippage, rocking or not coming to a complete stop in reverse before engaging forward.
This unit is a MUST for Heavy Duty vehicles used for towing, snow plowing or off-road purposes, modified, high performance or racing applications.
The kit includes outer race, 14 roller sprag assembly, Grade 8 bolts, washers, detailed installation instructions and the appropriate drill bits, to complete the installation.
NO SPECIAL TOOLS OR DRILLING FIXTURES ARE REQUIRED.
ADDITIONAL COMPONENTS:
Rear Bands: (low/reverse) when rebuilding, replacement is not often necessary because it is not used in an upshift application.) A Kevlar band is recommended for transbrake use because it is used during t/b application.
Complete Bushing Kit: The rebuild kit includes the most critical bushings which always require replacement. We can however supply complete bushing kits for each application.
Complete Washer and Bearing Kit: Restores transmission clearances in high wear rebuilds. Having a set of fresh washers will save time when rebuilding a high mileage or failed transmission.
Blueprint Component Kit: These kits include the hard to find parts needed to precisely adjust clutch pack clearances and input endplay. Kits include items such as a variety of thicknesses of snap rings, selective washers and thicker clutch steels.
ILLUSTRATED SERVICE MANUAL: shows the process (with pictures and text) to assist in the rebuild. Flow charts and troubleshooting sections can be extremely helpfull also.
HARDPARTS: We can also supply new and remanufactured hardparts to complete your project. CALL FOR SPECIFICS.
VALVEBODIES and SHIFT KITS: We can supply complete valvebodies, transbrakes or shift kits for most applications.
DON'T FEEL COMPLETELY CONFIDENT THAT YOU CAN REBUILD YOUR OWN TRANSMISSION?
-CHECK OUT OUR PRE-ASSEMBLED MODULAR series, TRANSMISSION KIT - IT'S NEVER BEEN EASIER!