DESIGNED FOR USE WITH ANY CHRYSLER
Slant 6, V6 or V8 ENGINE "A" and"B" Body VEHICLE built from 1962* to 1970.
*NOTE: To install the "Shortie" overdrive in a '62-65 car, requires switching to a '66 + style transmission.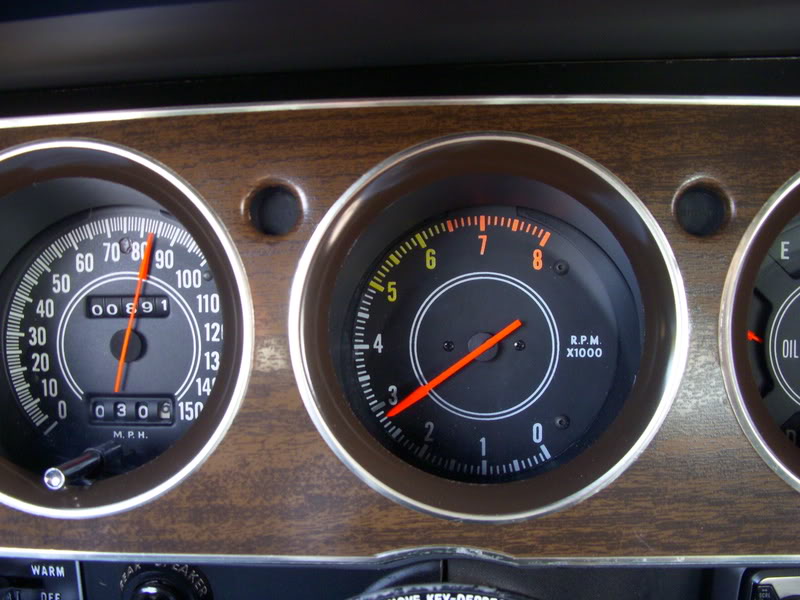 LOWER YOUR R.P.M. TO 78% OF YOUR CURRENT 3 SPEED RATIO. (eg: If you now cruise at 3000 r.p.m. at 60 mph, you would cruise at (78%) 2340 r.p.m. with the "Shortie" overdrive installed
Now Mopar Owners can install an overdrive without major modifications to their floor or critical crossmember.
No longer do you need to consider using a converted inferior G.M. transplant, a transplanted welded on bellhousing, adapter kits or cumbersome extra long tailshaft units.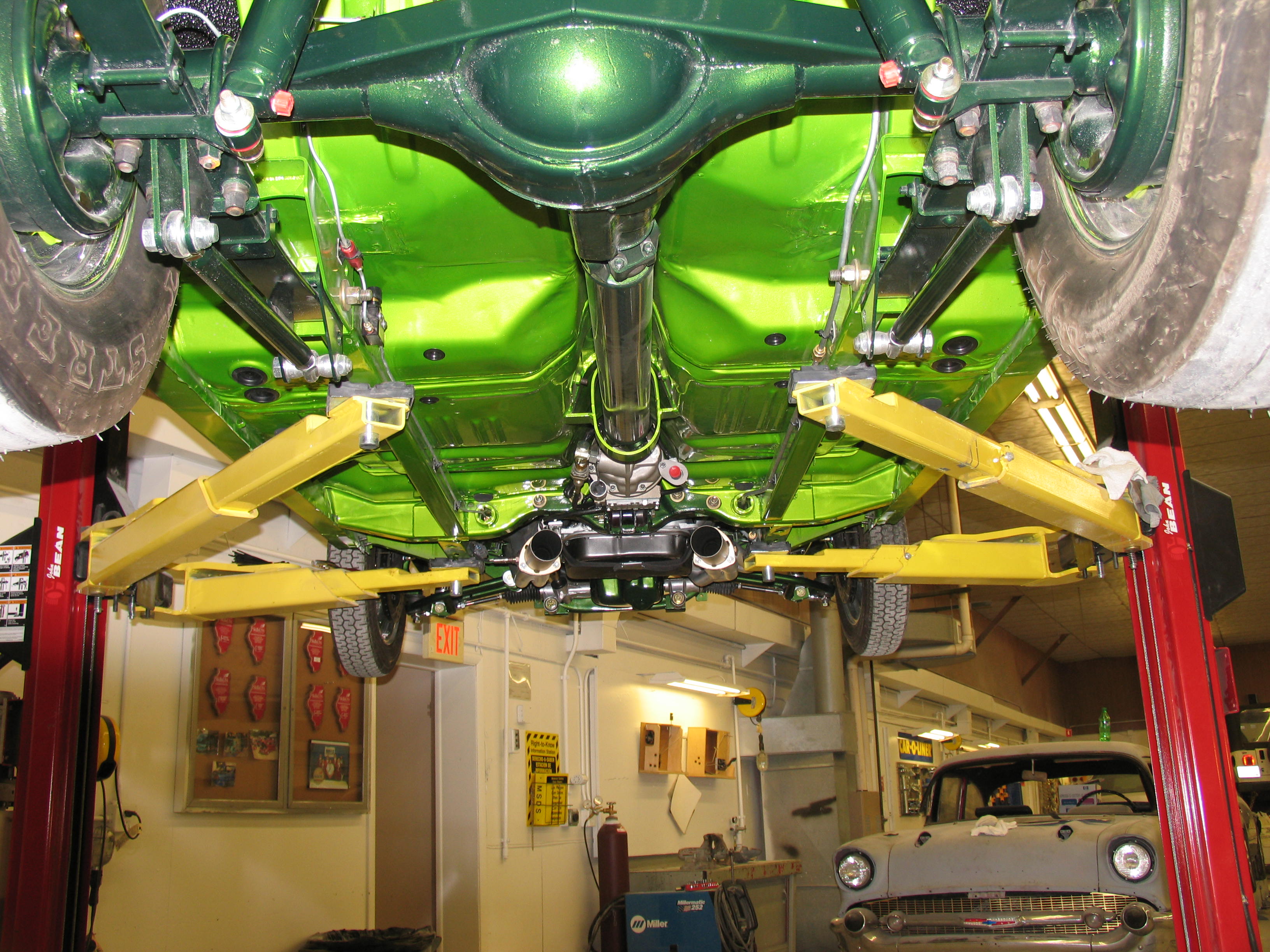 SHORTIE IN DART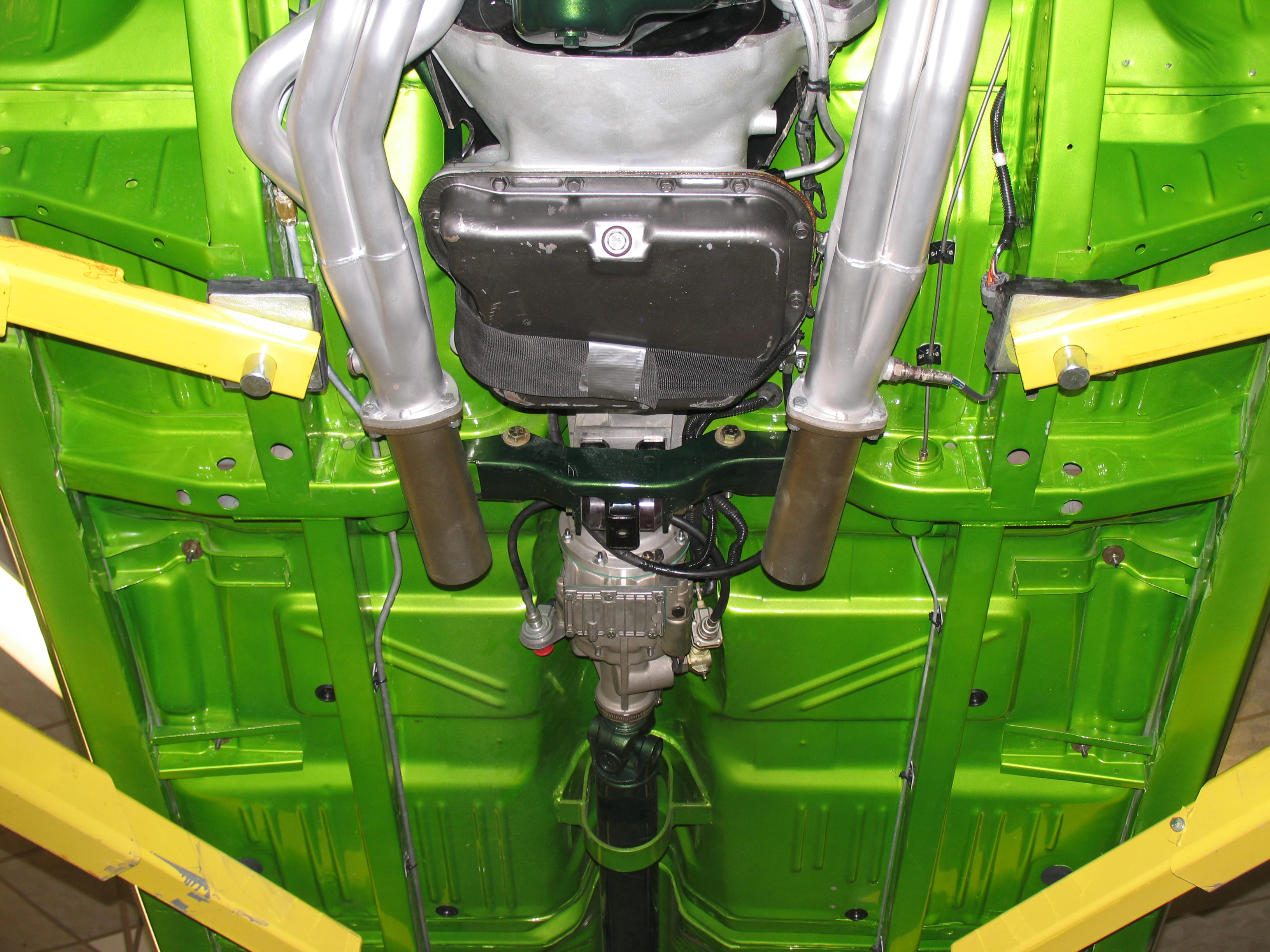 ONLY 7 1/4" LONGER THAN A STANDARD 727, an SMR "Shortie" overdrive transmission is a DIRECT BOLT-ON for all Slant 6, V6, A, B, RB, and 426 and GEN III HEMI engines in rear wheel drive 1962 to 1970 "B" Body Chrysler vehicles . No floorpan or critical crossmember modifications are required.* (No special fabrication or welding skills required)
* In some installations a small dent may be required to clear the speedometer adapter at the overdrive housing.
Installation is a true bolt-in, requiring only the shortening of the driveshaft, in any '62-'70 "B' Body or 2 wd truck originally equipped with a 727, 904 or 3 or 4 speed standard transmission. Installation is also simple in '67 to '76 "A" Body cars with only minor modification of the lower transmission mount
This transmission retains:
-stock crossmember;
-transmission mount;
-stock cooler lines;
-stock shifter (except '62-65) and kickdown linkage;
-stock or heavy duty Chrysler flexplate;
-standard design Chrysler torque converter;
-stock starter and location; and
-The full strength and integrity of the overall transmission is not compromised by removal of the original cast bellhousing to utilize an adapter that is welded on or bolted to the pump. (Such a bolt on bellhousing places the full torque load onto the pump bolts which were designed strictly for the purpose of holding the pump in place).
Utilizing these standard Chrysler design components, makes service and parts replacement a simple task.
Every SMR "Shortie Overdrive" transmission includes:
-all wiring and activation switch;
-overdrive shift controller (which can be set for automatic or manual shifting);
-speedometer cable extension;
-heavy duty slip yoke; and
-detailed instructions
Each unit is custom calibrated based on rear gear ratio and tire size to provide accurate automatic shift points and correct speedometer readings for the specific vehicle in which it will be installed.
MODELS AVAILABLE FOR APPLICATIONS RANGING FROM MILD STOCK TO 1200 h.p.
The SMR TRANSMISSIONS "Shortie" Overdrive Option incorporates the Reknowned GEAR VENDORS overdrive unit to provide the MOST USER FRIENDLY, MOST RELIABLE Overdrive Transmission on the market to-day.
We can also modify your 727 transmission and add this option on a time and materials basis.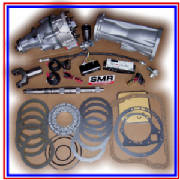 SMR TRANSMISSION LENGTHS
FOR COMPARISON PURPOSES
[overall length from face of bellhousing to end of transmission tailhousing at seal flange]
STANDARD 727 -3SPD TRANSMISSION 34.5 inches
SMR 727 "SHORTIE" OVERDRIVE 41.5 inches
727 TORQUEFLITE W/ STD.GEAR VENDORS OVERDRIVE 48..85 inches
A500/A518 OVERDRIVE TRANSMISSION 37 inches
STANDARD 904 -3 SPD TRANSMISSION 30.75 inches