When Quality Counts!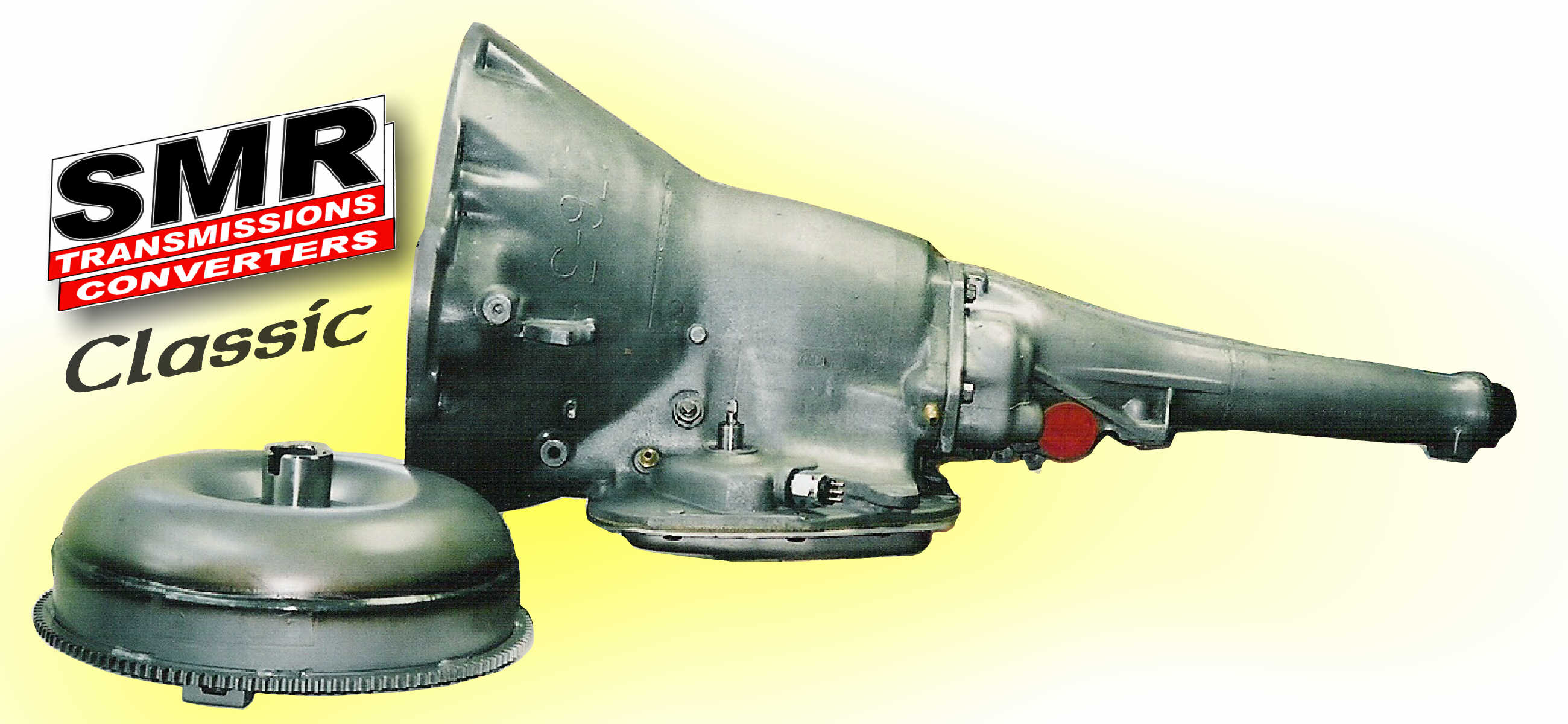 No restoration can be considered complete unless the transmission and torque converter LOOK and PERFORM with the original "showroom floor" characteristics.
"Experience the TOTAL RESTORATION"
with an SMR "CLASSIC RESTORATION" series
TRANSMISSION and CONVERTER
The SMR CLASSIC Restoration series incorporates the latest technology and upgrades for enhanced performance and reliability while maintaining and restoring the original shift charteristics of the model for which it is being installed.
TRANSMISSION FEATURES: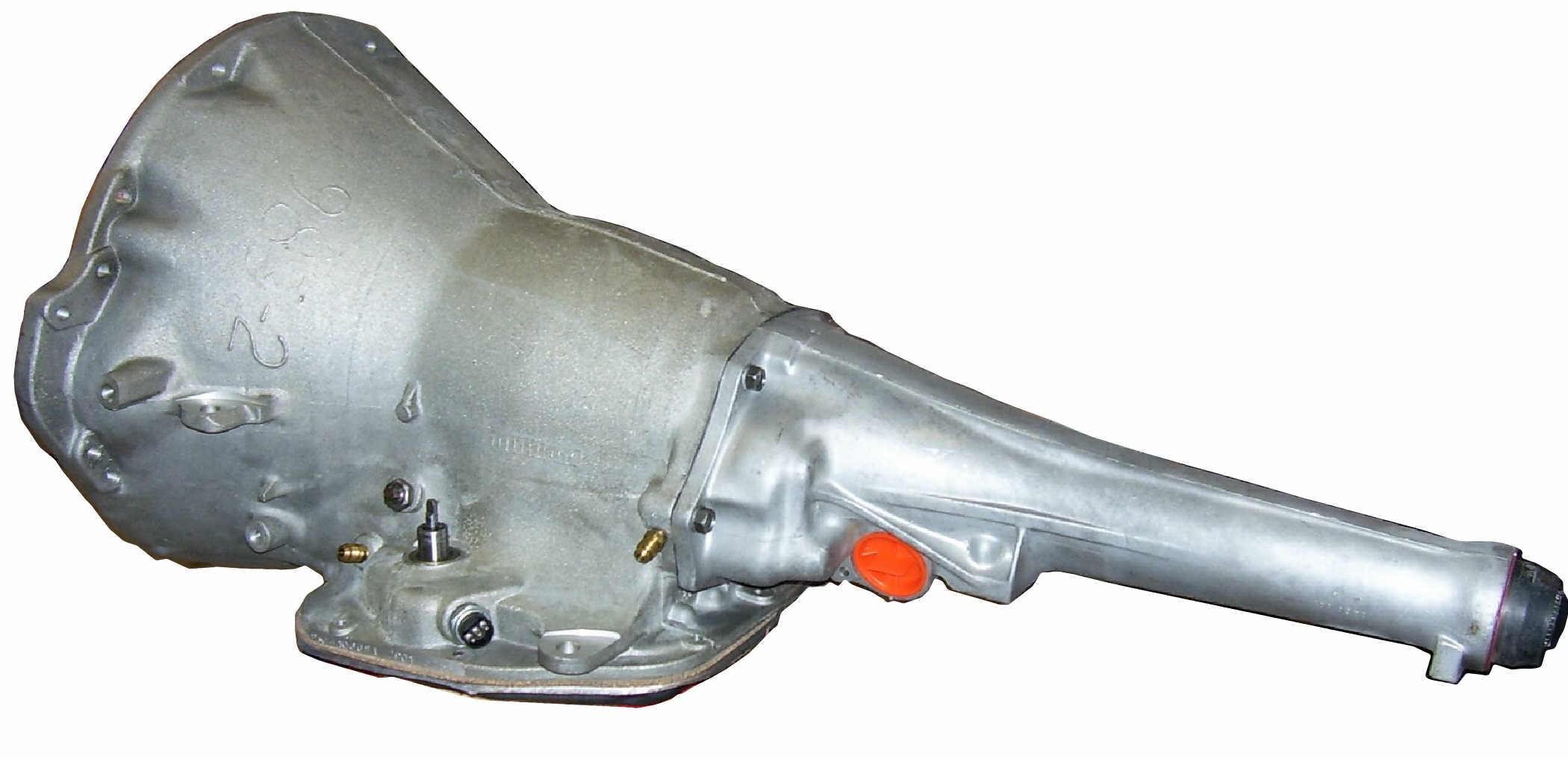 CASE:
EXTERIOR:- is restored to its' Original Natural Aluminum finish to retain authenticity. The cleaning and surface refinishing process is accomplished by high pressure wash, hot chemical pressure wash, oxide blasting, hot chemical rinse, fine glass blasted and final high pressure rinse.
-a satin clear coat is applied to prevent staining and to retain the new look in the future;
-all bolts, fittings, hardware and pan are glass beaded and clear coated to keep the original appearance and
- carefull examination of the case for stress cracks, impact damage, warpage or stripped threads;
INTERIOR:- excess cast flashings are removed to stress-relieve the case;
-servo and accumulator bores are honed to restore ring seal for proper apply and release pressures;
-outer overrunning clutch (sprag) race is inspected and replaced if necessary then re-staked to prevent future failure;
-meticulously cleaned to prevent any contamination of internal components.
INTERNAL COMPONENTS:
-all drums and sealing surfaces are re-surfaced to proper face textures for optimum performance their specific function;
-drum bushings are replaced;
-tailhousing bushing and seal are replaced;
-pump is re-machined, new bushing and seals installed and modifications made to enhance lubrication, line pressure, converter apply pressure and cooling;
-forward release spring, roller clutch components, thrust washers and seal rings are replaced with new upgraded components;
-the governor assembly is thoroughly cleaned, re-surfaced and re-set to restore factory shift points;
-the aluminum output shaft support is re-surfaced or replaced and the output shaft and rear drum bearing surfaces of the support are Molybdenum burnished substancially increasing its' load bearing capacity;
-the output shaft is carefully inspected for heat damage, straightness or signs of wear and then polished on all bearing surfaces to reduce bearing friction and wear and enhance lubrication;
-clutch friction plates and bands are updated to the latest technology in high co-efficient composites to maximize longevity and fade-free performance;
-all pressure plates are machined and surfaced to provide 100% friction contact apply area;
-all friction bearing steel plates are new high grade American made, components with a surface designed specifically to enhance fluid retention with the friction clutch materials utilized;
-only the best quality, precison made, premium lip seals, gaskets, seal rings and filters are used throughout;
- each component including the pump, input and output shaft, are precisely BLUEPRINTED to the optimum clearance specification.
VALVEBODY:- is carefully disassembled and inspected for previous modification, cracks, warpage or damaged passages or bores;
- every valve is hand polished to remove burrs and scratches;
- shift and pressure governing springs are tested and/or replaced to restore converter apply, line and governor pressures and original shift characteristics;
- the main governing body and transfer plate are re-surfaced to prevent crossflow and pressure leakage and in some models, fluid channels are reinforced to avoid possible fatigue failure;
- each valvebody is precision assembled using hand tools only and carefully calibrated to original specifications; and
- the valvebody is finally bench tested to assure proper pressure apply sequences, shift circuit operation and leakdown.
TESTING: Every function of the transmission assembly is precision tested during the rebuild to assure leak free pressure apply every component. Every circuit apply and release function is precisely tested and evaluated prior to completion. Only through comprehensive tests are we assured that the transmission will perform to its' peak efficiency and customer satisfaction.
PRICING: eg: 1966 and up 727 only $1,895.50 exchange
other models priced on specific application
TORQUE CONVERTER FEATURES: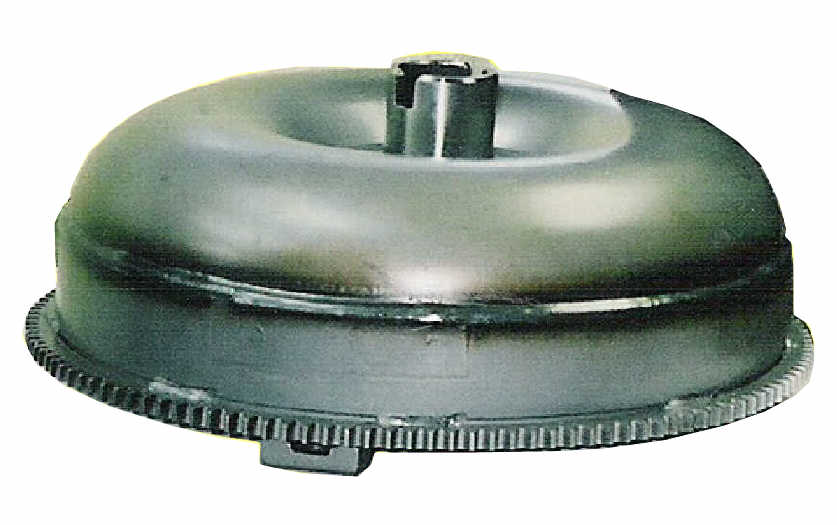 The OUTER CASE is hydrostatically cleaned and restored to its' NATURAL FINISH then satin finish clear coated;
INTERNALLY - the turbine, stator, pump and front cover are disassembled, thoroughly cleaned and carefully inspected for cracks, distorting, wear and signs of fatigue or damage. Any indication of such problem, will result in replacment of such component;
-the One-way Clutch (sprag) is replaced with a new heavy duty unit featuring hardened rollers, springs and forged inner and outer races;
-all bearings and thrust washers are replaced with new components;
-the converter drive tube (neck) is replaced with a new alloy unit restoring its' bearing surface, diameter and structural integredy.
-the pilot and mounting pads are surfaced and replaced if damaged or worn beyond specification;
-the unit is precision welded assuring accurate internal clearances and alignment of the crankshaft centerline and input shaft centerline. The mounting pads are degreed to 90% of centerline to eliminate flex and vibration.
-the balanced unit is then pre-lubricated and pressure tested to assure a leak free assembly.
Every precision step assures a superior quality product that will duplicate the original performance while incorporating to-days .technological advancements
Classic series Converter PRICE: only $ 475.00 exchange
TO RETAIN NUMBERS MATCHING STATUS, TRANSMISSIONS AND CONVERTERS THE CUSTOMER MUST SUPPLY THE SPECIFIC UNITS TO SMR TRANSMISSIONS IN ADVANCE
IF NUMBERS MATCHING COMPONENTS ARE NOT REQUIRED OR ORIGINAL UNITS ARE NOT AVAILABLE, ALTERNATIVE CORES MUST BE SUPPLIED. IN CONSULTATION WITH THE CUSTOMER, SMR TRANSMISSIONS WILL PROVIDE ALTERNATE UNITS THAT WILL BE CONSTRUCTED TO REPLICATE THE APPEARANCE AND CHARACTERISTICS OF THE ORIGINAL UNIT FOR THE RESTORATION VEHICLE.